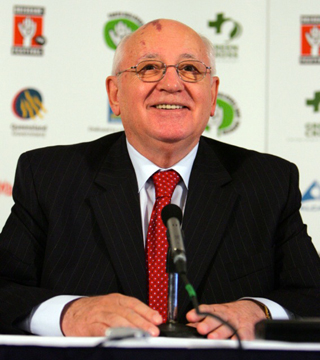 Green Cross International celebrates 20th anniversary and announces major activities
For two decades, the international community has failed abjectly to respond to the threats facing humanity and the environment, and is, instead, putting profits over people with its short-sighted and dangerous approach to dealing with climate change and sustainable development, says President Mikhail Gorbachev, Founder of Green Cross International (GCI).
President Gorbachev addressed, via video from Moscow, a press conference dedicated to the 20th anniversary of GCI, the nongovernmental organization he launched after the 1992 Rio Earth Summit to address the inter-related challenges of environmental degradation, security and poverty.
"The source of the crisis is clear," President Gorbachev said. "The world population will surpass 9 billion people by 2050. Such population pressure, coupled with a crumbling world economy and unchecked exploitation of natural resources, will only foment human suffering, spread poverty, reduce human security, cause more conflicts, and further degrade the environment. A sustainability perestroika is needed to revolutionize how people value life: their own, those of their children, and, critically, that of the one planet we share."
GCI President Alexander Likhotal said: "Systemic and integrated solutions are urgently needed. Short-term 'optimization' may lead to long-term disaster. Leaders must be honest about the scale of the challenge, and recognize incremental gestures will no longer suffice."
The late GCI Chairman Jan Kulczyk said: "The world economy must take an entirely new direction. A strong partnership between governments, civil society and business is vital, as market forces alone cannot make the massive transformation needed. Our visions and objectives must be long term and structured such that our children and our children's children can enjoy the same pleasures on our planet that we have come to take for granted. The green economy is a viable solution to make our visions a reality. Business can and should lead the way in producing and acting sustainably."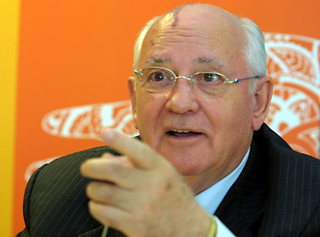 Since 1993, GCI and its network of national organizations in about 30 countries have used dialogue and on-the-ground action to promote sustainability, security and collaboration at all levels. Highlights include:
Education: Reached over 1 million children via innovative educational initiatives, like the Earth Charter art contest and school-based Environmental Diary project.
Demilitarization: Facilitated the safe destruction of over 50,000 tons of chemical weapons; promoted ratification and adherence to bilateral and multilaterals arms treaties dealing with nuclear and chemical weapons.
Water: Advocated for the 2010 recognition of the Human Right for Water and Sanitation; promoted the UN Watercourses Convention to cooperate over the world's cross-border rivers and underground reservoirs; provided sustainable safe water and sanitation in Africa, Latin America, Asia and Eastern Europe.
Health and social care: Delivered health, socioeconomic and education support to over 30,000 people affected by the Chernobyl nuclear disaster, defoliant use in South-East Asia, and chemical weapons attacks in Northern Iraq's Kurdish regions.
Smart Energy: Advocated for safe, renewable energy options to reduce global reliance on fossil and nuclear-based fuel.
For more information : www.gcint.org
Contact for interviews/information:
Etienne Lacombe, GCI Communications
Green Cross International
Headquarters: +41 227 891 662
Follow Green Cross on Facebook, Twitter, YouTube and Flickr